I am loving all of the classroom job ideas that
Mrs Dillard's 1st grade
shared! You've got to check out this linky party, fun!
For the past 3 years I have used a chart that I got at the dollar store with a fish theme. it had 8 fish bowls and fish for each child to have their own. So cute! The only problem is, I ran out of fish (they started to get beat up, even when laminated) so, I threw the chart out and luckily this coincided with my new classroom theme.
I've been on the hunt for the perfect bee themed classroom job chart, but just hadn't found the perfect one. THEN, this linky party came along. WOOHOO!!
Down Under Teacher
Shared her BEE themed board, and it is EXACTLY what I have been picturing in my mind, and the best part is....it is FREE!! How cool is this??? I'll have the same jobs as previous years (might add some cute ones I've seen, but its hard to manage so many jobs in 1/2 day kinder...so i'm not sure)
Here are my jobs...
Table boss (5) One from each table. they pass out papers and get supplies for their table. The kids love this job :)
Attendance- makes sure all of the kids put their picture up when they get to school, takes down pictures at the end of the day
Lab Boss- helps make sure the learning labs are cleaned up and put away properly (need to teach this job better next year :) )
Books/recycling (2) takes notes, recycling, etc to the office when needed (I want to change the name of this...but not sure what yet)
I might add line leader (we don't walk the halls that often, so I haven't had this in the past)
door holder (need this one!)
What do you do? Be sure to share your ideas with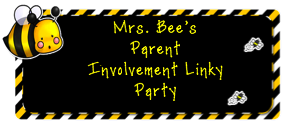 And don't forget to join my parent involvement linky party!!! :)